Timo Pritzel is a living legend in mountain biking history. Specialising in dirt and freeride, his levelheadedness has meant he continues to be a role model and mentor for young and aspiring riders across the world. His career in bikes started off in the '80s when he was given his first BMX, and became World Champion in BMX Dirt in 1998, and in the same year, recorded the world record for the highest jump on a BMX. It was during this time he started riding mountain bikes and entering bike festivals, applying his BMX skills to the mountain bike scene. Something that had never really been seen before on a mainstream platform.
In the early 2000s he competed across the world, achieving the top spot at various events, including winning the Sea Otter dirt jump contest twice. Competing on dirt wasn't all Timo did, and he is famed for his and John Cowan's 'Hell Track' section in New World Disorder II, III, III and IV films.
Transferring his BMX skills to mountain biking, he was successful in winning several dirt competitions, and in 2004 he returned to Whistler, Canada to compete in a freeride slopestyle event called Joyride. This was the early days for slopestyle, and riders were exploring their limits. Towards the end of his run, Timo managed to clear the entire scaffold jump at the bottom of the course and in doing so unfortunately shattered his leg on landing. Nevertheless, the warrior freerider from Germany secured second place and firmly etched his name into mountain biking history.
It wasn't until four years later when Timo was once again on the top step on the freeride mountain bike map. At the second ever Chatel Big Mountain Style event, Timo won first place at what is arguably one of the toughest freeride competitions outside of Rampage.
Nowadays, as well as being a professional rider, Timo teaches Yoga, is a personal trainer for athletes, and is getting to grips with being a father for the first time. This year, after thirteen years with Scott Bikes, Timo has moved to a new bike sponsor – Propain Bikes. We decided to have a chat with him about his achievements in biking to date, and his thoughts on how the sport has developed during his tenure.
The interview:
Can you tell us about your new sponsorship deal with Propain Bikes?
I'm motivated and happy about the change! When I went into the first meeting with the company, and met the people behind it, I knew it was going to be the right move. I liked how personal they are; they are a rider-owned company and I like that. Their warehouse is full of enthusiastic people and when a customer comes in to collect their new bike, the bosses of the company come out to meet him/her to shake their hand and personally hand over the bike to its new owner. The owners attend bike festivals to meet customers, and personally going out of their way to help them; it's a truly rider-owned company and it shows. I know for myself how much hard work it is to run a company – I ran Atmosfair Clothing for six years – and I have a great respect and understanding for those that do it.When I first began speaking to Propain Bikes, I didn't sell myself as a 'stuntman' but as a long-time professional which a great amount of knowledge about the bike industry, and I wanted to use my experience to help Propain Bikes develop. I'll be helping to coach some of their team riders, as well as being the team manager for the Rookie Propain Team, and I hope that I can also integrate some of my work as a Yoga teacher and coach when it comes to things like eating the right food and recovering from injuries. There will also be a Timo Signature edition complete dirt bike coming out soon. I'm really stoked about that!
It must be tough leaving a big sponsor like SCOTT after all these years. What's been your fondest memory of working with such a big brand?
Yes, it was a strange feeling. But like any kind of relationship, when one door closes, another opens. After 13 years with SCOTT I began to feel that the relationship was no longer working; things weren't progressing in the way they had been in the past, and with new people coming into SCOTT they were taking things in a totally different direction, and I felt it was just time to go. I'm not sad about it; life is about changes and progress, and when the opportunity with Propain Bikes came along, it just seemed perfect.Looking back, I really enjoyed helping SCOTT develop their Voltage line and the icing on the cake was having my very own signature model for 10 years. There were some funny moments too. I remember my first ever poster-shot with them was me riding down some stairs on a Euro400 bike with a 110mm stem! It certainly wasn't the ideal poster for a BMX World Champion! Working with SCOTT, I learned a lot about working with a big company, understanding their side of the business. Working together on the Voltage line was like any collaboration – there was give and take by both sides – at the beginning they wanted to use an XC stem and seat on the range, but we talked and I explained the reasons why it wouldn't be a good idea even though financially it may have been appealing to them to go with their own choice. They soon came round to understanding the reasons and that my knowledge was beneficial to their product development and success.
When did mountain biking start for you?
I always had a mountain bike to ride around from an early age. My parents are bike enthusiasts and we did lots of bike trips when I was younger. I'm very thankful for this and their support in allowing me to pursue my dreams.
I was a BMX rider before I was a mountain biker. I got my first BMX in 1983. It was a Christmas present. It wasn't long before I entered my first BMX race – that was in 1984 – and then, when I was 15, I entered my first XC mountain bike competition. I competed at my first bike festival in 1996 at Riva del Garda when I entered the dirt jump comp, and then subsequently I did a lot of shows at other festivals. My BMX sponsor at the time – GT Bikes – liked it when I rode mountain bikes at these festivals because back then there weren't many mountain bikers who were good at big jumps, so it was easy for me to get attention, using my BMX skills, and make my sponsors happy.
You've competed in the freeride scene from its very start, how was life back then as a professional rider compared to how it is now for established and upcoming riders?
I would say it was easier back then compared to how it is now. I was there when freeride mountain biking was just developing, and now for new riders it is much harder for them to make a name for themselves and stand out from the crowd. There's a lot more competition nowadays, and the level of riding is extremely high.I feel for the young riders who want to live their dream these days. A few make it but most riders get very little money, and even then, that money has to then go on travelling to various events.
When I started riding, we started out with one-handers and one-footed tricks. Now the youth of the sport watch videos and go out and start with a tail-whip and don't even clear the table. It's a different way of progression and there is a lot of immediacy involved. The use of foam pits helps a lot with new tricks but when new riders jump into doing bigger tricks but struggle to do a manual, I wonder how much bike control they really do have? Although, on the other hand we are now seeing two-year olds on bikes and they're picking up bike-handling skills so quickly! This is even more so when they have a Velosolutions pumptrack in their neighbourhood!Furthermore, it's physically tough what these riders have to go through in such a short space of time. Yes they are young, but in a few years, the long-term effect of their injuries will start to show themselves when they start reaching their thirties.
How would you like to see the sport develop for future generations?
I love how mountain biking is becoming more of a sport for everyone. Nowadays in Europe, it's common to see a normal family going on a biking holiday just as much as it is seeing a family going on a skiing holiday. It's awesome to see more and more bike parks opening up and it's also great to see riders being more involved in trail building and advising park managers on developing these parks. It's always a good sign that riders organise their own mountain bike-orientated events rather than leaving it to officials from the Road discipline to organise them. People and companies like Claudio Calouri and his Velosolutions crew are building dope pumptracks all over the world, as well as the likes of 'Big Red' Ted Tempany, and Joscha Forstreuter. These people are doing great work for trail building in their communities it will no doubt mean we will have a strong foundation for continuing the sport for future generations.
Also, I like the fact that mountain biking as finally earned the respect of the bigger extreme sports community. Freeriding and its athletes helped to change their perceptions, and we're now seeing freeriding mountain biking in the mainstream media as well.
There's a great amount of progression in our sport as well. What John Cowan and 'Big Red' Ted built for our NWD3 sequence back in 2003, and what Anti Days of Thunder did in 2008, lay the foundations for what the FEST Series and Nine Knights is doing now. Along with the big jumps in the natural forests and mountainsides, I like how the FMBA is helping the sport reach out into the mainstream by bringing events to cities, and in turn this helps riders to have bigger sponsorship opportunities from brands outside the immediate industry.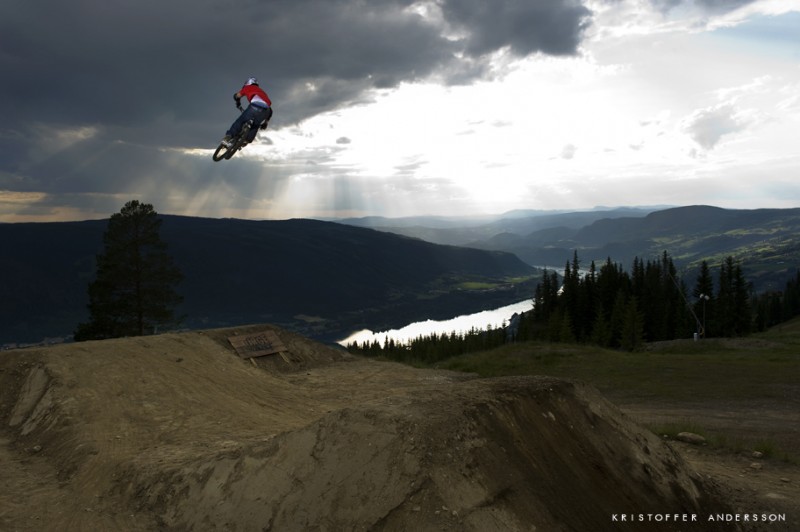 In your opinion, what has been the biggest innovation in freeride mountain biking over the years?
The bikes in general have gotten so much better! We were like guinea pigs in the beginning. Back then the sport was changing and we were riding small XC bikes so we could jump! The bikes weren't built for the big man-made jumps so they would break and so would we.In NWD2 I was running a RockShox Judy fork on a small XC mountain bike but in the end I fashioned my handlebar ends on the fork so it cut out the suspension because, coming from a BMX background, to me it didn't feel right to have it. Riding with 'Big Red' Ted and John Cowan in Squamish with suspension soon made me realise that it was a pretty cool feature!Also, and thankfully, the style has changed for mountain biking along with the technical innovations. Back in 1999, my first mountain biking job was to shave my legs! Road shorts and shaved legs was what a German bike mag wanted on a mountain bike test-ride I was on. Thankfully the style in mountain biking has changed for the better.
Tell us about your crash at Whistler in 2004. Would you have done anything differently or did the crash lead you to things that wouldn't have been possible without it happening?
Yes, that crash was pretty crazy and I am happy that my lucky angels were looking out for me that day! Back then I was like "Right, those young guys – Paul Basagotia and others – have new tricks that I don't have, so I will use my long distance skills!"
I wanted to win so badly. The crash had a big impact on my career and it came at the same time I was ending a six year-long stressful relationship with a woman. Me and my broken foot went to chill out in Vietnam and Thailand where I was able to also heal my back pain after discovering the benefits of natural medicine and Yoga out there. So in a way, the crash was totally worth it and in some respects, meant to be. My Yoga teacher always says "Turn sh*t into fertiliser!", and that's exactly what I did after that crash.
Has being a father for the first time change your view or approach to mountain biking at all?
For sure, although things have by no means slowed down! Being a father has meant I have more motivation to appreciate life and the moments within it even more, as well as wanting to be there for my family. Riding wise, I still feel like the young warrior that wants the huge adrenalin rush and wants to battle with the young guys, but I have learned to listen to what my instinct tell me and that I don't need to do the triple flip for my ego any more.At the start, I wanted my daughter to be the next Anne Caroline Chausoon, but I soon realised that although being a professional mountain biker is the best job in the world, it has its negative sides too, namely injuries.
If you could go back in time to the 2000s and give your younger self advice, what would it be?
Probably not to stress too much as to what other people think of me.
I would have also adopted natural medicine instead of Western medicine. I was pumped full of the latter whenever I was injured, which ultimately didn't help me in the long run. I would have also started Yoga a lot sooner, as well as understanding the impact diet had on my health. I had so many food allergies when I was younger and because of this, when your digestive system is struggling to cope, it really has an impact on your whole body.
Then again, learning from mistakes is all part of life; that's how you grow and learn.
What would be your advice to aspiring riders who want to compete on the freeride or dirt stage?
Love what you do! Have dreams and goals and believe in them and yourself. Respect others, don't walk around with a big ego just because you are a professional biker, and understand that you don't just have to ride your bike, but you have to work at improving yourself; organise your time, and communicate with your sponsors and fans. I sometimes see riders that aren't nice people but are really good riders. That kind of attitude might work for a little bit but bad Karma always comes back!What is also important knowing how to deal with injuries. It's something I have had to deal with, and it's certainly not easy seeing your friends getting hurt badly. I have four friends from the BMX scene who are now in wheelchairs.I wish that more riders would understand the consequences big crashes have on their bodies. It's so important to listen to what your body tells you have have a good team around you to support you to recover properly. If you want to compete or just ride for a long time at the highest level, you need to do you 'homework', that means stretching exercises and learning what is right to do after crashing, as well as finding a good physio and/or osteopath as well as nutritionist.
Riding is often a mental challenge too, so when you're stressed about injuries, personal things or the competition, try to relax and chill as in my experience, if you don't that's when you get hurt.
How do you cope with a tough slam?
I've experienced many crashes and learned a lot about my body because of my injuries. I made the mistake of not listening to my gut instincts and going beyond my limits when I was younger but I now know not to do this and what helps me to recover when I do have an injury. I have some really good natural healers that specialise in osteopathy and homoeopathy. I go to them to get better. I do a lot to stay fit and healthy, and Yoga has been a huge part in my life too. For the past 12 years it has helped me to feel so much better in general and erase the injuries that were stored in my body from past crashes.
If you compete at the top level it is very brutal on your body. Let's say that you have around 16 big events per year, plus filming sessions; in all these instances, you are giving 100 per cent. It's almost normal to have a couple of concussions and big crashes each year, and one big injury every one to two years. So if you do that – like me for 15 years riding BMX and MTB – you begin to wear down your body because there is so much pressure to get back on your bike when you should be taking time to recover. Most of the time it's not the sponsors putting pressure on you, but yourself, and your own mind is hardest thing to take control of when there is so much pressure involved.
For me it was hard to accept that I was getting older and that I couldn't continue taking the slams and injuries. I'm 38 now, and for a while I didn't see clearly what I wanted to happen from one year to the next, so I just kept competing. I'm really happy now that my other passion, Yoga, is being blended so perfectly with my passion for biking.
What has been your scariest experience on a bike?
One of the biggest moments was cutting my kidney with my handlebar and almost dying after flipping a chasm in England at the Backyard Jam in 1997 after coming 5cm too short. But probably worst was four years of serious back pain where normal traditional doctor couldn't help me and diagnosed lots of bull****. There were so many blockages in my spine from crashes and a bent coccyx/tailbone, I finally managed to heal my back through Yoga and osteopathy.
What's the riding scene like in Berlin?
Berlin is pretty big and has many good spots! Even with no mountains the riding in the forests surrounding the city is good. It's good to get away from the city and just ride, and I feel the riding doesn't have to be all technical to enjoy it. Mellow Park in Berlin really stands out for me – it's an amazing place. I am planning to organise a chilled-out bike event there soon, so stay tuned!
You've talked a lot about 'living your dream'. Have you become all you have expected and dreamed of as a kid?
I'm really happy and thankful for the life I have. When you are a kid you dream about winning 'that' race or making a cover of a BMX magazine and learning a new trick. Then you achieve all of it and you still want more.
I've learned that winning and the material things in life don't make you happy, instead it's the bigger things like love, family and health. I'm happy to learn new things about live and I hope that I can be a good example for those who wish to pursue mountain biking as a career.
There's a saying 'My bike has taken me to places school never could', and I've been lucky that my bike has taken me to places like Panama and China (which I did my High Jump record for Guinness World Records). For some of these trips I was able to bring along with me my buddies, which made the trip so much more amazing. I can't forget either when I was approached by the Make A Wish Foundation – a charity for sick children – as there was a little kid whose biggest dream was to spend a day with me riding bikes.
I'm thankful for all those experiences I was able to have thanks to my bike. Both the good ones and the bad ones made me learn a lot about myself and live. I didn't take the normal road when I was growing up, you know, having a normal education and a normal job, and I'm thankful that I was able to pull it off despite what the sceptics were saying about "Teenager Timo who just had bikes in his head". Instead, travelling and meeting people interesting people around the world made me who I am, and there's so much more to life than just living to pay the bills. My Yoga teacher Ana Forrest told me that and for me, it fits really well.